GETTING TO & STAYING IN ADELAIDE
Helpful travel info and accommodation options for Expo 2019
Adelaide is globally renowned for its innovation, world-class facilities, ease, value, safe clean surrounds and superb climate.
It has one of the fastest airports to city transfers anywhere in the world (just 10 minutes) with regular direct domestic flights, world-leading accommodation options conveniently located right in the CBD, and, it's no secret that South Australia is a food and wine capital. Visiting delegates and guests can enjoy superb cuisine and celebrated wines against the backdrop of unique and vibrant festivals and events. What more could you ask for!
To make for a smooth-free experience at Expo 2019, we've put together the following FLIGHTS and ACCOMMODATION guide to help plan your travel to the city of churches.
For more information about Adelaide visit southaustralia.com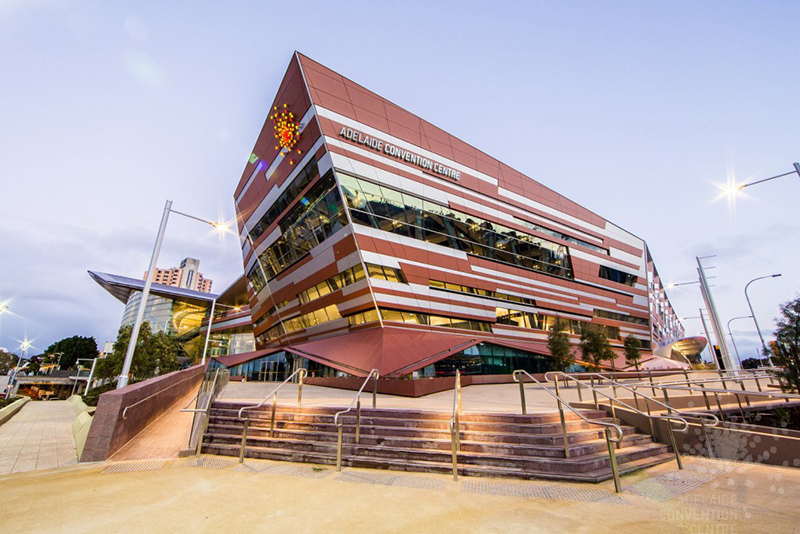 Adelaide Convention Centre
The newly-renovated Adelaide Convention Centre is a purpose-built venue and located in the heart of the city centre and a short walk from all hotels and dinner options.
All Expo sessions across the three days will be held at this world-class venue. For more information about the venue, visit adelaidecc.com.au
Accommodation
A range of options are available for members to purchase at competitive rates – a choice of 18 hotel and apartment–style options are available. But you'll need to get in quick as accommodation is secured on a first in, first served basis.
For any queries relating to accommodation, contact the Orbit team via TOLL FREE 1800 624 107 or [email protected]
Map Legend

Adelaide Convention Centre

7. Adelaide Rockford
14. iStay Precinct
1. Intercontinental Adelaide
8. Hotel Grand Chancellor on Hindley
15. Pepper's Waymouth
2. Oaks Embassy
9. Hotel Grand Chancellor on Currie
16. Adina Apartments Hotel Adelaide Treasury
3. Oaks Horizons
10. Mayfair Hotel
17. Hilton Adelaide
4. The Playford Adelaide
11. Pullman Hotel
18. Quest on King William South
5. Mercure Grosvenor & Ibis Styles
12. Majestic Roof Garden Hotel
6. The Stamford Plaza Adelaide
13. Mantra Hindmarsh Square
Flights
Flights can also be booked through our travel partners Orbit World Travel at the time of registration. Secured at competitive rates.
NOTE: coach transfers to/from Adelaide Airport will be available on Monday 18 February and Thursday 21 February 2019. Time schedule to be communicated at a later date.
Intercontinental Adelaide
5-Star luxury hotel
3 minute walk to The Adelaide Convention Centre
Outdoor pool
Complimentary in-room Wi-Fi
24-Hour business center
Two award winning restaurants, Riverside And Shiki
Luxurious suites with breathtaking views
Oaks Embassy
4-Star apartment style accommodation
4 minute walk from The Adelaide Convention Centre
Kitchenettes and a balcony in all apartments
Complimentary Wi-Fi
Indoor heated lap pool and sauna
Fully equipped gymnasium
100% non-smoking property
Oaks Horizons
4-Star contemporary hotel
3 minute walk to The Adelaide Convention Centre
All guest rooms with private balconies and views of the city
Complimentary Wi-Fi
Indoor heated lap pool and spa
Fully equipped gymnasium
The Playford Adelaide
5-Star boutique hotel
4 minute walk to The Adelaide Convention Centre
24 hour heated pool, sauna and gymnasium
Complimentary Wi-Fi Access in Hotel Lobby
The award-winning Playford Restaurant
The Playford Lounge Bar
Mercure Grosvenor
4-Star hotel
3 minute walk from The Adelaide Convention Centre
Federal Restaurant & bar
Fitness Centre
100% non-smoking hotel
Ibis Styles Adelaide Grosvenor
3-Star hotel
3 minute walk from The Adelaide Convention Centre
Federal Restaurant & bar (the Mercure Grosvenor restaurant)
Fitness Centre
100% non-smoking hotel
The Stamford Plaza Adelaide
4-Star boutique hotel
6 minute walk from The Adelaide Convention Centre
Outdoor rooftop heated pool, spa and gymnasium
TG's Restaurant
La Boca Bar & Grill featuring an Argentinean Asador fire pit
Cascade Cocktail Lounge
24 hour concierge, room service and front desk
Adelaide Rockford
4-Star boutique hotel
4 minute walk to The Adelaide Convention Centre
24-hour reception
Rooftop pool and sauna
Complimentary access to a nearby gym
Spice Market Bar & Restaurant
Free Wi-Fi
Hotel Grand Chancellor on Hindley
4-Star hotel
5 minute walk from The Adelaide Convention Centre
Indoor heated swimming pool and spa
Gymnasium
Complimentary Wi-Fi
Bistro Sixty5, offering modern Australian dishes
Hotel Grand Chancellor on Currie
4-Star apartment style hotel rooms
11 minute walk from The Adelaide Convention Centre
Gymnasium
Complimentary Wi-Fi and Foxtel
Kitchenettes including cooktop, bar fridge, toaster, kettle, Microwave and dining table
Mayfair Hotel
5-Star luxury hotel
8 minute walk to The Adelaide Convention Centre
Mayfair beds are custom designed & made in Adelaide
Complimentary Wi-Fi and mini bar in all rooms
Mayflower Restaurant and Bar
HENNESSY rooftop bar
Gymnasium
24 hour room service and reception
Outdoor smoking terrace
Pullman Hotel
5-Star Hotel
20 minute walk through Adelaide City or a 7 minute tram ride
Indoor heated pool and fitness lounge
In-room Wi-Fi
Salt Restaurant & Bar
Majestic Roof Garden Hotel
4-Star hotel
20 minute walk to the Adelaide Convention Centre or a short 10 minute taxi ride
Mini gymnasium
Free unlimited Wi-Fi
The awardwinning Culshaws Restaurant
Business facilities
Mantra Hindmarsh Square
4-Star Hotel
20 minute walk through Adelaide City or an 6 minute tram ride
Gymnasium
Each guest room includes kitchen facilities and air-conditioning
SQ Restaurant and Lounge
24 Hour Reception and room-service available
iStay Precinct
4-star hotel
A 10 minute walk from the Adelaide Convention Centre
Heated swimming, sauna, steam room and spa that has views of across Adelaide City
Each guest room contains a full kitchen, laundry facilities and a private balcony
24 Hour Reception
Pepper's Waymouth
5-Star Hotel
12 minute walk from the convention centre or 12 minute tram ride
An indoor heated pool, sauna and spa
Wi-Fi Internet
Essay Kitchen and Barketta
Adina Apartments Hotel Adelaide Treasury
4-Star hotel
Located a 17 minute walk from the convention centre or an 11 minute tram ride
Indoor heated swimming pool and spa, sauna, Jacuzzi and 24hour gymnasium
Treasury Bar & Restaurant
Hilton Adelaide
5-Star hotel
20 minute walk to the convention centre or a 12 minute tram ride.
Fitness centre, heated outdoor pool, tennis court and running track
Coal Cellar + Grill and The Collins Bar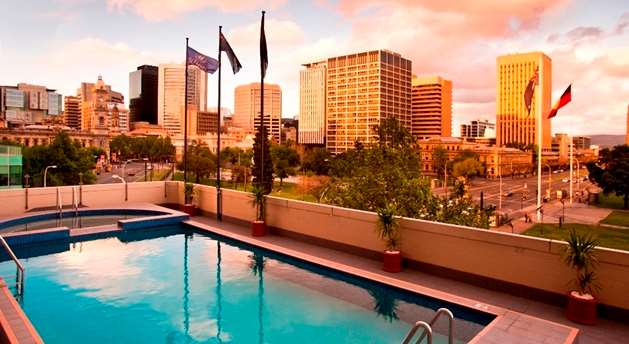 Quest on King William South
4-Star apartment style hotel rooms
25 minute walk to The Adelaide Convention Centre or 15 minute tram ride
Gymnasium
Complimentary Wi-Fi and Foxtel
Kitchenettes (studio) or full-kitchen including cooktop, fridge, toaster, kettle, microwave and dining table